GeorgeMichael.com All Æccess Blog Posts
In August of 2011, legendary singer George Michael launched his Symphonica: The Orchestral Tour. This impressive production would eventually be staged 67 times in 44 European cities, often before sold-out crowds. 

For the first five weeks of the tour, I travelled with the Symphonica team and wrote about George's performances and life on the road for the All Æccess blog, which is exclusively available to GeorgeMichael.com Æccess subscribers. Over those five weeks, I wrote 25 posts on everything from the show itself to the people who helped to make it happen. Below are three of my favourite entries.  

A LOOK AT SOUNDCHECKS
Published September 7, 2011
Let's give some attention today to the soundcheck. Not only is it a standard part of shownight (though occasionally it gets skipped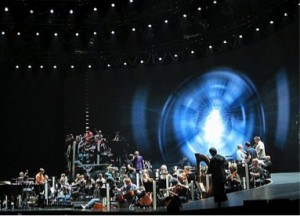 due to timing issues; you can't really soundcheck if the stage isn't ready), it's also a key part of each show night, allowing for the musicians, and George, to warm up and fine tune some of the songs they'll be performing later on.
Generally, soundchecks are divided into two parts: The first part, which happens without George, and the second half, which happens with George.
The first half can really vary in length and what material is covered. Some afternoons, it's more like a rehearsal, than a straight-forward soundcheck.
This part is run by music director, conductor and pianist, Henry Hey. Prior to each soundcheck, Henry decides which songs, or more commonly, which parts of which songs, will be practiced. He makes his selections based on his own observations of what needs to be reviewed or changed, as well as on the feedback that others (including George) give him.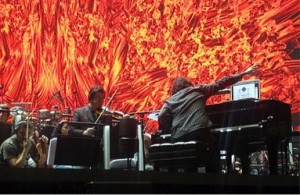 Henry explained to me that right now, it's all about fine tuning various parts of specific tracks. As result, the first half of soundcheck mostly involves playing short bits of different songs, often by the specific instrument groups. However, later on the focus will be on performing songs that haven't been played lately, to keep them fresh in everyone's mind.
And this brings me to an important point: Just because a song is performed in soundcheck doesn't mean that it will be played during a show.
At this early point in the tour, some tracks are still being subtly tinkered and yes, new songs are being introduced. For example, on Friday, the musicians found themselves practicing a brand new song (while I can't give you the name, I can say that it's a cover track).  As you would expect, brand new tracks do get a bit more time spent on them than say, when the strings section on "Cowboys & Angels" is reviewed.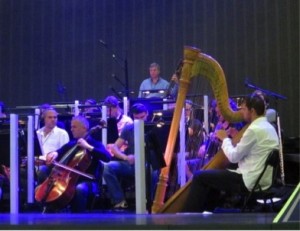 Listening to this half of the soundcheck is a bit odd because you keep expecting to hearGeorge's voice but instead all you get is the quick end to various bits of music. 
It's also quite repetitive but as the cliché goes, practice makes perfect. And that even applies to George, who appears on stage for the second half of soundcheck.

Generally, there's a bit of a break between the two halves and then the musicians get back on stage, ready to practice with George.
I've noticed that the sign that George is coming seems to be the lights go down. Everything gets a bit darker, any visuals that are being run through are turned off, and then a few minutes later, there's George on stage (minus his trademark suit).
From then on, soundcheck is George's show. So far, he's has been reviewing four songs, usually from start-to-finish if time allows, and in a very efficient manner. While George does pick which songs will be practiced, Henry will let him know what the musicians have been working on, in case George wants to run through any song that's new or has had changes.
Soundcheck George isn't quite the same George as show-time George. While the voice is definitely there, soundcheck George is much more serious and less animated.  During soundcheck, it's all business.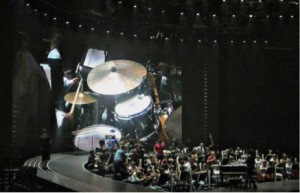 Because of that, watching a soundcheck isn't quite like watching a private George Michael concert. The glitz, the glamour, the fun, none of that's there. The focus is all on the music and how it sounds, in order to make sure that the night's show is as strong as possible.
Now, I know what some of you are thinking, "How can I get into a soundcheck?" There, I can't help you because soundchecks are closed to the public, to allow George and the orchestra to focus on the music. So you're just going to have to wait until show night to hear him!
THE GLAMOUR & THE GRIND OF TOUR LIFE
Published September 17
Tonight's show in Wroclaw is going to be my third-to-last show on the Symphonica tour. It's crazy to think that in less than a week, my world is going to change dramatically. No more tour bus, no more orchestra members, no more George (well, no more live George).
While it's too early to get into goodbyes quite yet, I figure that now's a good time to reflect back a bit on what it's been like to tour with Symphonica.
 Whether they're part of the Symphonica team or people in the crowd, the people I've met while travelling around have all been very friendly and welcoming. I have to admit that I was a bit worried about how I, the blogger, would be regarded by my travel-mates but it's not been an issue at all.  And then there are you, the fans.  Your openness and enthusiasm is really wonderful.


 Another wonderful aspect of this gig is getting paid to travel around Europe. The tour let me see several cities I haven't seen before including Prague, Berlin and Budapest, all places I did want to visit at some point in my life. While our schedule doesn't allow for a ton of tourist time, so far I've been able to squeeze in a few hours of sightseeing in almost every place we've stopped in.

Besides seeing some amazing sights, all of this travelling has also let me do lots of shopping. I've picked up a beautiful leather jacket from Florence, some crystal from Prague and more than a few Christmas and birthday gifts for family and friends. In fact, by the time I head back to Canada, I hope to have a good chunk of my Christmas shopping done.

The food that catering's been preparing us on this tour has been consistently delicious. While we'll look at catering more in a future post, I will tell you that there is always lots of choice and lots of food (the salads are particularly amazing). I will definitely miss catering.
And I will miss not having to make my bed or clean my bathroom or do any of those other domestic tasks that you don't worry about then you're staying in a hotel. While I know not everyone's a fan of hotel living, for a short period of time, I think that it's great.
Oh yeah, I guess I should mention the actual Symphonica shows! Watching the tour, and how it's subtly been evolving, has been a wonderful, and impressive, experience. While I always knew that a lot of work went into a production like this, actually seeing it has really given me a new appreciation for what goes on behind-the-scenes of a major show.
While catering is great, I of course only have it on show nights. On non-show nights, I need to make my own dinner plans and while sometimes that leads to great meals with great people, other nights it means I'm eating alone. This happened more than a couple times while we were in Herning, Denmark, when the musicians were busy rehearsing and I was on my own for dinner (I'll admit it, I did go to McDonald's, twice).
Sometimes what's glamorous can also be grinding: While we do stay in some very nice hotels, every room seems to have its own little quirk, whether it's the way the lights are set up or how the shower works or the fact that the maids don't really knock. While I'm definitely still pro-hotel room, it will be nice to sleep in my own bed.
And speaking of sleeping, there's the challenge of learning how to sleep on the bus (which is definitely more of a challenge for me than others). However, on our last overnighter, from Naples to Verona, I did manage to get several hours worth of sleep so I do appear to be getting used to it.
Another downside to travelling overnight is that you sometimes findyourself brushing your teeth in a service station bathroom. Yes, the bus does have a bathroom but it's tiny, like what you have on an airplane, and isn't really ideal for any kind of washing-up routine.
I know this might come as a surprise, but with tour life comes a certain amount of boredom. Sometimes it pops up on the bus, other times when you're at the venue, waiting for soundcheck or the show to start. Different people have different ways of coping with the boredom; everything from smoking to cracking jokes to playing games on their phones. Personally, if I can't get an internet connection to do some work, I read a book (so far, I've been able to read the entire Hunger Games series; now if only The Girl with the Dragon Tattoo series was available on the Kindle…)
But for all of the grind, the glamour, and the overall experience of being on a tour like this one, has definitely made these past few weeks among the most interesting (and busy) of my life.
While my time with Symphonica might soon be wrapping up, someone is coming to take my place so don't worry, this blog will be continuing on right until the very last tour date in December.
Lindsay
WROCLAW – SEP 17 – STADION WROCLAW
Published September 18, 2011
Last night's show in Wroclaw, Poland, was a big one and in more ways than one.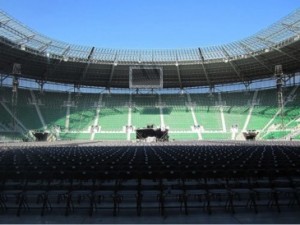 First off, it was literally the biggest show of the tour. It was held at the Wroclaw Stadium (or Stadion Wroclaw), a huge, open-air venue that can hold close to 43,000 people. While the stage set-up resulted in a chunk of those seats being roped off, there was still some 29,500 people in the audience, a big change from the 5,000-6,000 crowds we were getting in Italy.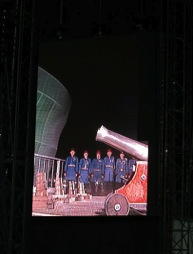 Then there's the fact that this is a brand new stadium (complete with that new venue smell). Last night's Symphonica show was actually the first event ever to be held at it and as a result, media and "important people" were extra present, including the city president, Rafal Dutkiewicz, who officially opened the stadium, with some help from some canons (they were located just outside of the actual stadium).
Part of the agreement for playing here was that the usual Czech orchestra members had to be temporarily replaced with local Polish players. While switching up the orchestra might sound like a risky move, it actually went very smoothly. The UK principals were all thrilled with the Polish players and the show run-through that I listened to on Saturday afternoon sounded excellent, despite George's missing vocals (he was busy flying into Poland). I'm sure it helped that the orchestra was being conducted by Steve Sidwell, a highly regarded UK conductor who was brought in to rehearse the Polish musicians.
Steve, who was also at the Prague Opera House show, will be appearing at a few other dates where we're either dealing with a local orchestra (Marseilles and possibly Dublin) or the stage configuration has the orchestra separate from the band (Royal Albert Hall and the Royal Opera House shows). Based on the superb performance Steve was able to get out of everyone in Wroclaw, attendees at those shows are in for a real sonic treat.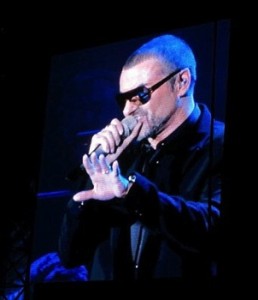 While playing in such a big space was something new for some of the people on stage, it was nothing new to George. He looked completely at ease on the stage, which had extra screens on either side that showed him as well as close-ups of the musicians and their instrument and even occasionally the audience.
Set-list wise, we didn't hear anything new but a couple of yet to-be-played tracks were covered during rehearsal and I wouldn't be surprised if one or both of these songs popped up on an upcoming date.
The Wroclaw crowd was super-hyped prior to the start of the show. They did at least a dozen rounds of the wave and eagerly clapped and called out for George.
Despite a dip in the temperature, the crowd's enthusiasm didn't slow down once the show started and based on their cheers, the audience particularly enjoyed "Roxanne", "A Different Corner," "Feeling Good", "Russian Roulette" and of course the encore medley.
Those last songs sounded extra impressive due to the massive crowd's participation and the stadium's natural echo-iness. Sorry Herning #3 crowd; while you were very, very loud, Wroclaw definitely takes the title for loudest crowd yet. And their reward for being the loudest? A sparkly purple and gold confetti explosion that went off on the venue's floor once the show had wrapped up.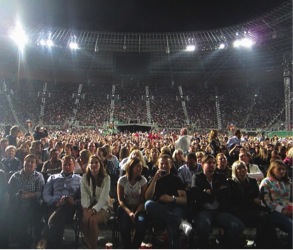 While I do completely understand why people love to see George in smaller, as well as unique, venues like the Prague Opera House or the Verona Arena, seeing George in action in a proper stadium, getting thousands and thousands of people up and dancing and waving their arms in the air, really was an impressive sight and one I won't be forgetting anytime soon.
Lindsay